our services
Brochure Websites
Static brochure websites are a great way to let let your customers and potential customers view your products or services. Kano Design offer quality professional website design and take the time to understand your business and what you want the web to do for you. We have digital photography experience and are happy to work with you to gather the information needed for your website.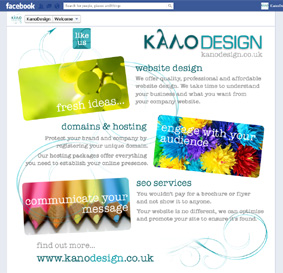 Social Media - FACEBOOK BUSINESS PAGES
Looking to promote your business or organisation through the ever-growing social media platform, Facebook? Kano Design offers bespoke Facebook business pages and business profiles that will help you stay ahead of your competition and stand out from the crowd. View our album of example Facebook pages.
E-commerce Websites
If you have products available to buy either retail or wholesale, Kano Design can help to extend this to the Internet. We can design and develop an online shop facility to suit your needs. We can also create a secure area for trade or existing customers, that you can target specifically with discounts and special offers.
Dynamic Websites
There are many ways to engage your customers and help them get the most out of visiting your site. From database driven content that you maintain yourself to ensure the information is up-to-date and relevant, to an advanced search facility that enables them to find the information they require quickly and easily.
Website Training
Once your website is live it is important to keep the information up-to-date. If this requires regular updates by the web designer/developer, this can be quite costly. That's why Kano Design offers training on how to maintain your site.
Website Audits
If you have an existing website and would like a report on its effectiveness, Kano Design offer comprehensive website audits. We assess websites for the following: Technical Issues, Navigation, Language/Message, Accessibility and Appearance.
Website Maintenance
It is important to keep the information on your website up-to-date and relevant for your customers. If it requires too much time and money to be maintained in-house, Kano Design can do it for you. Whether you require small changes to be made regularly or larger updates to happen monthly or every few months, Kano Design can provide a maintenance package to suit.
Domain Names & Website Hosting
Domain name registration immediately protects your brand, family name or web identity. Once registered, you can start using your own domain name right away.
Kano Design's website hosting package offers everything you need to create an online presence for your company.
Search Engine Optimisation
Search engine optimisation is ensuring your website content is more search engine friendly to make it rank higher. Kano Design will research your keywords and descriptions and optimise your site based on the most searched keywords in your industry. We aim to direct relevant visitors to your site via the major search engines and directories.
Logo Design
Kano Design has designed and created logos and corporate identities for many of their clients.